Inspired by the continuing interest in nature and garden experiences in our community, the Memory and Brain Wellness Center is creating a memory garden for people living with dementia. Named Maude's Garden in honor of our late community member and advocate Maude M. Ferry, this memory garden is uniquely designed to enhance the lives of people living with dementia, as well as provide a relaxing, restorative space for all. The garden will serve as a spot for drop-in gardening, socializing, and nature-based activities, such as horticultural therapy. This memory garden, opening in March of 2022, is now under construction at the Memory Hub, located beside the Frye Art Museum.
The garden design process is ongoing and incorporates feedback from community members living with memory loss and care partners from a focus group in February of 2020, as well as lessons learned from the Garden Discovery Walks program of the MBWC/Seattle Parks and Recreation and a visit to our friends at the Portland Memory Garden.
What makes Maude's Garden a memory garden? We applied and built on the key features of therapeutic landscape design in our process of creating a garden for people living with memory loss and their loved ones. Learn more!
Our Supporters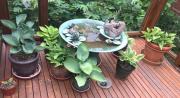 Thank you to the community members and philanthropists who have donated funds and plants in the early phases of the Memory Garden development:
Funds: Richard M. Ferry, Aaron and Gwen Colwell, Patricia Klingler
Plants: Karen and Rick McMichael, Bill Waldman, Mike & Lacy Gage of Blue Moose Farm in Salem, Oregon, Annika Noreen, Laura Westbrook, Jean Chen, Debbie Wheeler
Bench, Woodworking: Carl Westphal
What's Growing in the Garden
Program and Activities Schedule
No upcoming events are currently on the schedule. Please check again soon!