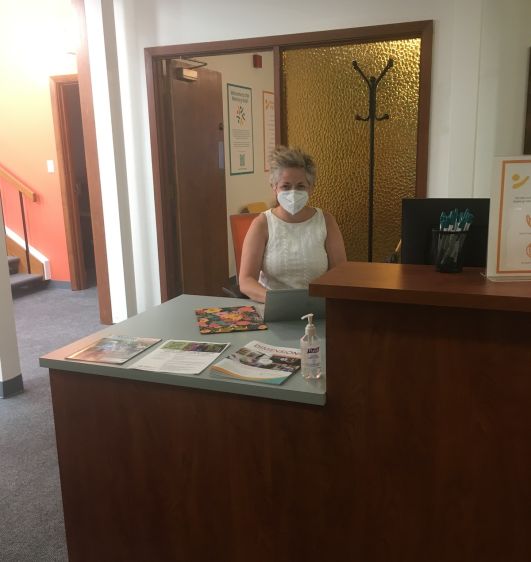 The Memory Hub welcomed the first group of front desk volunteers this fall! We currently have 4 active front desk volunteers, with a 5th joining soon. The front desk volunteers are the first contact that visitors have upon entering the community center. Each volunteer brings a commitment to the Memory Hub mission, a compassionate and helpful spirit, and respect and kindness for folks living with memory loss and their caregivers. Join us in welcoming Deborah, Teresa, Julie, and Tanya!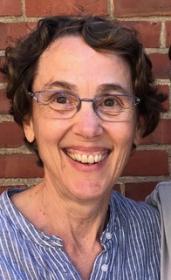 Deborah Hyman (she/her) retired in 2018 from a career in grant writing and grants management for non-profit agencies. Deborah is familiar with "front office" work, thanks to her past volunteering for the International Rescue Committee at the front desk. She answered phones, greeted people, and gave out basic information about their programs that help refugees and immigrants. "I found that I really enjoyed the contact with such a diverse population and especially valued the opportunity to reassure folks, even when there were language barriers and challenges in communicating. I'm offering my time as a volunteer at the Memory Hub to help the community and to learn. I want to 'walk the talk' of the value that all people are deserving of dignity and respect whatever their challenges may be," she says. Outside of volunteering, Deborah enjoys travelling with her husband. Her favorite trips, in pre-Covid times, were to Argentina, Morocco, and India. Between Deborah and her husband, they have five children and five grandchildren to spend time with. She likes gardening, playing the piano, and doing all kinds of puzzles.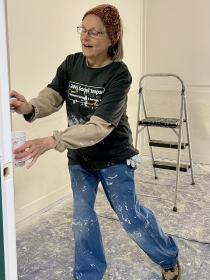 Teresa McCorkle (she/her) has joined the Memory Hub as a front desk volunteer because of a love of people. "When I first visited, I was hooked by the positivity and upbeat nature of the center," she says. Teresa completed her Master's of Social Work training in the Projects on Aging at UW School of Social Work and then spent over 40 years as a long term care social worker. Dementia always felt personal to Teresa; her grandmother and mother had memory loss in their late 90s but had no diagnosis. "I received all the training I could in the area of memory loss, and I learned how complicated it is to learn about and be of service to individuals experiencing memory loss." Teresa practiced in chore services, senior centers, home health, residential long term care, and hospice, and she worked in Continuing Education Social Work, where she trained social workers statewide in DSHS's Aging and Adult Services and Aging Network Core Trainings. She spent 17 years working in residential care, including the Memory Support Unit at Horizon House. "At the Memory Hub, my role is to make sure people feel welcome and at home, and make sure they get to where they are trying to go. I see it as a role of bringing light ...The Memory Hub is a place of light," she says. Teresa fills her time with community volunteering projects: She builds Tiny Homes for the Low Income Housing Institute. She volunteers with NorthEast Seattle Together, and she also helps as a park inspector for City of Seattle Parks and Recreation. Outside of volunteering, Teresa spends a great deal of time with our four young granddaughters as a "hands-on nana," and she and her husband Paul take dance classes at NWDance. She is also a 22-year member of a close-knit choir and likes to play pickleball. She goes by Teresa or Terry.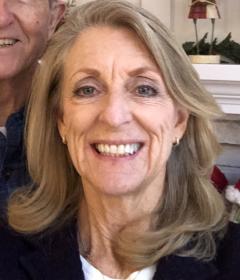 Julie Pusztai (she/her) is a newly retired nurse educator who taught mental health, community health, and health promotion courses. She also directed a wellness center for Azusa Pacific University in the community. Before that position, Julie worked as a public health nurse and performed home visits to offer support around a broad swath of health concerns, health education, and referrals. Volunteering at the Memory Hub is one way that she is exploring how to live life retired. "I still want to be out in the thick of it," she says, "involved in people's lives and being there to help." Julie is familiar with the Memory Hub because of her time as a member of the Memory Hub advisory board. "I look forward to greeting and talking to the people who come in the door," she says. "Getting to know both the caregiver and persons living with dementia will be a big highlight. My hope is that people will want to see what's going on here and share information about Memory Hub programs and resources." Outside of volunteering, Julie likes walking in gardens, getting together with friends, and exploring beautiful Washington state with her husband.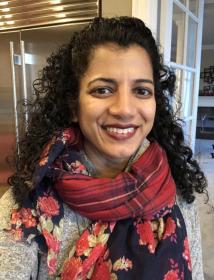 Tanya Su (she/her) comes to the Memory Hub front desk by way of the Dementia-Friendly Washington Learning Collaborative meetings, in which professionals from many sectors and people living with memory loss connect online to inspire each other, share insights, and support expansion of dementia-friendly community efforts. "I'm so impressed with the cohesion of the memory loss community in this area," she says. Tanya has a passion for working with older adults. As a current volunteer at the Alzheimer's Association, she helps with office work and assisting the program manager plan new events and activities for individuals with early- to mid-stage memory loss. She participates in one of the Alzheimer's Association's weekly Zoo Walks and helps people feel welcome and included. Tanya brings personal family experience with dementia; her late mother lived with Alzheimer's disease and her late father lived with dementia associated with Parkinson's disease. This experience impressed on her the importance of finding resources at the right time. During her time living in the UK, Tanya taught workshops for caregivers on mental wellbeing, and she took people living with memory loss on walks. "I like being a conduit of information," she says. "I feel like caregivers can be overwhelmed with information, and someone needs to filter it." As a person of South Asian origin, she is well aware of stigma often associated with seeking help or resources related to dementia, and she remembers her father overcoming the stigma. "It would be amazing to be able to talk about dementia openly in order to support a person, so they know it is OK to ask for help." In her time so far at the Memory Hub, Tanya has seen the thoughtfulness, intentionality, and attention to detail that is put into the Memory Hub.