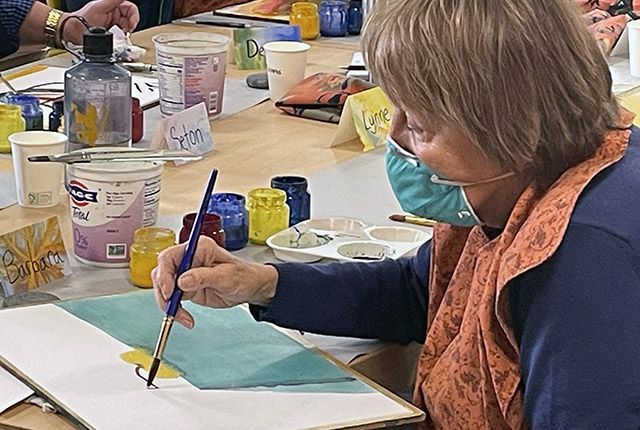 The Memory Hub, operated by UW Medicine Memory and Brain Wellness Center, is a community center on Seattle's First Hill for people with memory loss, their families, and all who support a dementia-friendly community.
Starting Tuesday, Jan. 10, the public will be welcomed to use Memory Hub resources from 9 a.m. to 3 p.m., Tuesdays through Thursdays.
"We're excited to open our doors to the public," said Memory Hub Director Marigrace Becker of UW Medicine Neurology. "The Memory Hub brings together so many valuable partners and programs. It's an essential resource for people with memory loss and their families, professionals, and anyone in the community who would like to know a little more about living well with dementia."
Visitors can stop by during public hours to enjoy:
Library and resource room, with a variety of books and educational materials related to living with memory loss and caregiving.
Art gallery featuring art created by people living with memory loss.
Maude's Garden, the first public memory garden in Washington state, designed to be accessible with a sensory focus on plants to touch, taste, feel and view.
Memory Navigator program featuring free 30-minute appointments with an Alzheimer's Association care consultant to explore community resources and to address your questions about living with memory loss or caregiving.
Free Tech Lab consults to discover ways that technology and apps can promote independence and health.
Conversation with front desk volunteers to learn more about what the Memory Hub offers.
The Memory Hub is on the campus of founding partner, the Frye Art Museum, located on Seattle's First Hill at 1021 Columbia St.
A nationally unique model, the Memory Hub brings together five mission-aligned partners – including UW Medicine, Frye Art Museum, Elderwise, Full Life Care and the Alzheimer's Association – who aim to serve people with memory loss and their families.
The Memory Hub also houses a variety of ongoing programs such as the award-winning Elderwise adult day program, a monthly Alzheimer's Café social event offered by the Frye Art Museum, caregiver education classes and support groups, the Dementia Friends public awareness program, the Project ECHO-Dementia network for dementia care providers, a garden discovery program, and more. View the calendar to learn more and sign up for classes and events: thememoryhub.org.
Visitors to the Memory Hub can enjoy complementary valet parking around the corner, courtesy of Murano Senior Living, 620 Terry Ave., with validation provided at the Memory Hub front desk.